Bitcoin (BTC) has had a crazy seven weeks. After feigning death for upwards of three months, with there being little price action and scant volumes to speak of, the cryptocurrency market returned.
In fact, as of the time of writing this, the 24-hour volume figure on Bitwise's BitcoinTradeVolume indicator reads at $917 million, much higher than the $500 million seen prior to all this price action. (Just last week, this read at a jaw-dropping $2.38 billion).
As cryptocurrency interest in spot markets, often dominated by retail investors, has surged, derivatives platforms have seen massive upticks too. While many see this as a sign that the "crypto winter" has ended, some are worried that derivatives could hamper Bitcoin's long-term success and underlying value proposition.
Bitcoin Derivatives See Jaw-Dropping Volumes
Last week, the Chicago Mercantile Exchange's Bitcoin futures contract saw its biggest day, well, ever. According to exact data compiled by the CME itself, 33,677 contracts were traded on May the 13th, amounting to 168,385 paper BTC.
This is absolutely staggering, especially considering that the last record, set in February, was a relatively mere 91,690 BTC. While volume died down after that trading session, data shows that money on derivatives platforms is still flooding in and out of the cryptocurrency market.
On Tuesday, cryptocurrency publication Diar released its latest newsletter. In the edition, it was revealed that Bitcoin derivatives volumes have grown alongside volumes seen on spot markets. Citing data from analytics startup Skew, Diar notes that on platforms like CME, Deribit, BitMEX, and the Kraken-owned CryptoFacilities, Bitcoin vehicle volumes are reaching multi-month, even all-time highs.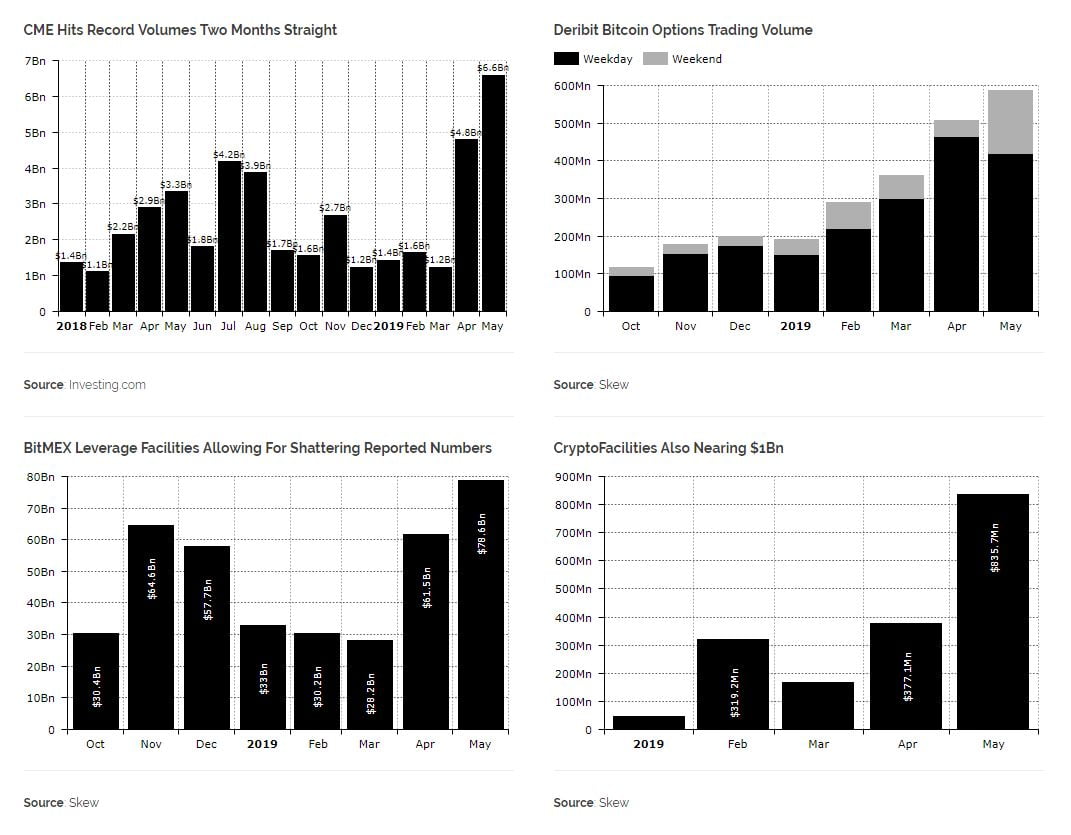 Indeed, according to a CME-stamped email from The Block, "May is shaping up to be the strongest month ever for CME Bitcoin Futures." The Chicago-based market looked to the fact that on May 13th, $1.3 billion worth of paper BTC changed hands, and the number of accounts trading the product has grown well above 2,500. The exchange explains this statistic:
"The number of unique accounts continues to grow showing that the marketplace is increasingly using BTC futures to hedge bitcoin risk and/or access exposure."
It's a similar sight on the more cryptocurrency-specific platforms. In May (so far), BitMEX has seen $78.6 billion worth of volume, around half of Bitcoin's market capitalization, while Deribit has seen nearly $600 million worth of volume for its array of options contracts.
Could Financialization Of Crypto Be Bad?
Although many see a growing derivatives ecosystem is a sign of a maturing market, some have postulated that for BTC and other cryptocurrencies, this could be detrimental in the long term. Wall Street banker turned blockchain advocate Caitlin Long wrote last year that the financialization of cryptocurrency might be a "double-edged sword".
She wrote that cryptocurrencies are inherently equity-based, meaning that they are nothing like stocks, bonds, and its ilk.
This makes futures markets, especially those that allow for margin/leverage, for this new asset class somewhat controversial in that they allow for the "issuance of more assets out of thin air to dilute existing holders, or from the creation of more claims to the asset than there are assets." With Bitcoin's premise being one of scarcity and one of "holding one's own keys", the introduction of institutionally-centric leverage futures markets could artificially dilute the cryptocurrency's market, despite the fact that there aren't coins to back those vehicles.
Even if this isn't true, futures, especially those that are margin-enabled, have been proven to cause inorganic price discovery in the cryptocurrency market. Researcher Willy Woo recently noted that Bitcoin's recent foray past $8,000 was most likely a result of "pros" trading and playing this nascent market to their advantage.
He accentuates that blockchain data, which should show money flowing from "HODLers" to exchanges and exchanges to exchanges in rallies, showed minimal capital movement. Woo thus confirms that much of the recent rally was an "orchestrated short squeeze to milk profits", likely done through the medium of a non-KYC, easily-accessible, high-volume derivatives platforms like BitMEX.