What a day it's been for the Bitcoin and cryptocurrency markets. Thursday saw the leading cryptocurrency trade at some absurd levels on some leading platforms due to an array of technological patterns.
Some say that this decimates any chances of a Bitcoin exchange-traded fund (ETF) making it to market, at least in the U.S. anyway.
Bitcoin Market Goes Wild
On Thursday afternoon, Coinbase Pro, the third-largest "legitimate" Bitcoin spot exchange in the industry, suddenly went down. Some facets of the site, according to traders on Twitter and Coinbase's status page, suddenly stopped working, namely the firm's Bitcoin-to-U.S. dollar market. There were also reports of a flash crash on the exchange of up to $200.
At the same time, certain Bitcoin markets started to print very weird chart patterns on short-term time frames. Below is an image posted by a cryptocurrency trader, which shows that the price of Bitcoin on exchanges like BitMEX and OkCoin found themselves oscillating in a weird pattern, surging higher and crashing by dozens of dollars minute in, minute out, all without rhyme or reason. The person that posted this image called the price action "whipsaw[ing]" — whatever that means.
Some claimed that this was some algorithmic trading accounts "going wild" due to Coinbase Pro's technical difficulties, while others claimed that this was some odd attempt at manipulation as the monthly October candle was coming to a close.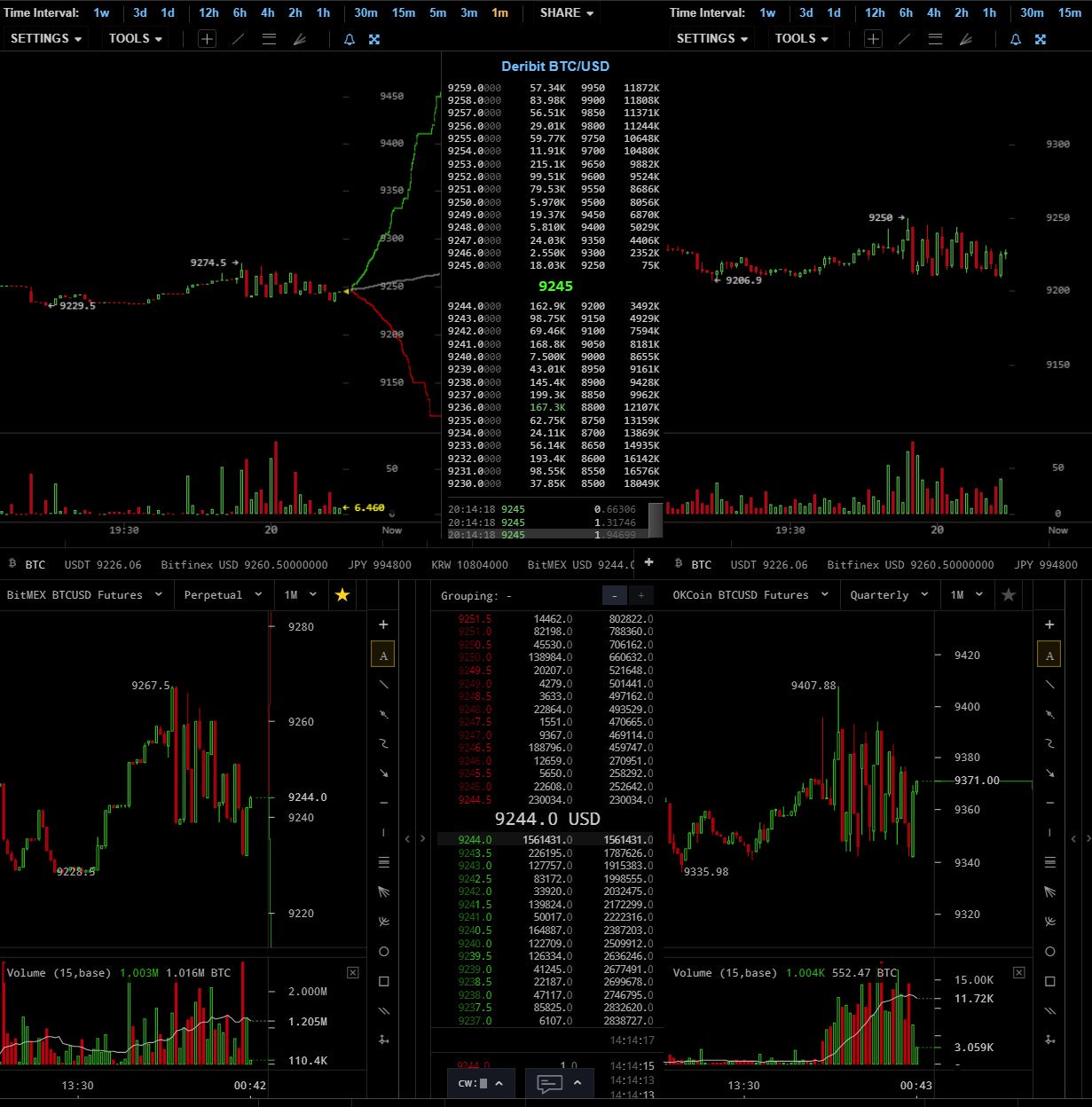 Eventually, this odd price action stopped. But, the craziness was not over the users of Deribit, a popular cryptocurrency derivatives platform used to apply leverage to trades.
At 21:00 UTC, its perpetual Bitcoin swap product, Bitcoin's price dumped to $7,700 — some 15% lower than market prices at the time — within a few seconds' time. This wasn't just a visual glitch, as users reported that their open positions acted in odd ways around the time of the crash.
Due to the timing of all this, some drew connections between Coinbase Pro's sudden downtime and the collapse in the price of the Deribit market. It isn't clear if this is the case, yet Deribit announced that this flash crash was a byproduct of calculation issues with its Bitcoin price index — Coinbase is notably one of the markets that Deribit draws information from to comprise its index.
During this same time period, there was purportedly (according to prominent trader Sicarious) absurd price action on other exchanges, including a move from $9,000 to $15,000 to $6,500 on one exchange.
https://twitter.com/Sicarious_/status/1190017417503752192
Things Are Returning to Normal
While many are still rattled by this odd series of events, things are returning to normal. Coinbase Pro now has an active Bitcoin market again, albeit with a more than one hour gap of no trading in its chart. And Deribit has revealed that it will be reimbursing over $1.3 million worth of Bitcoin to traders with losses "from the BTC index calculation data issue around 21:00 UTC on October 31, 2019. The Deribit Insurance fund will not be used to cover these losses, but compensation will be covered by Deribit."
Bitcoin ETF, Am I Right?
As aforementioned, this industry-wide debacle likely hasn't helped the chances that a Bitcoin ETF has at making it past the U.S. Securities and Exchange Commission's (SEC) gauntlet. In September, the SEC's chairman, Jay Clayton, argued that "there is still work left to be done" for this class of cryptocurrency products. Clayton went on to double down on his common critiques of the cryptocurrency market, casting doubt on the nature of Bitcoin's underlying market as BTC "trades on largely unregulated [and unsurveyed] markets," and may thus potentially be subject to or already subject to market manipulation.
Sure, this might not have been manipulation, but it likely isn't a sign that the Bitcoin market is ready for retail investors and large institutions to start siphoning capital into the space.
Bitwise: the bitcoin market is uniquely resistant to manipulation. SEC, please approve our ETF.

Messed up trader: hold my beer. https://t.co/wIkOLfzmhL

— Alex Krüger (@krugermacro) November 1, 2019