Bitcoin (BTC) continued to rocket higher on Tuesday. After surging over $9,000 on Monday, the cryptocurrency rocketed another 5% to hit a local high of $9,425 on Tuesday, setting a new multi-month price high and posting a performance of 15% in six days' time.
Altcoins followed suit, with Ethereum, XRP, and a swath of other digital assets posting similar gains to that of the market leader.
As of the time of writing this article, the cryptocurrency has paused, retracing to $9,300, data from Blockonomi indicates.
Here is what analysts expect to come for the cryptocurrency market next.
Short-Term Pullback Likely
While there is no doubt the recent price action has been favorable for bulls of Bitcoin, there are many analysts expecting the cryptocurrency to cool off and see some consolidation prior to its next large move.
Bloomberg, in an article titled "Bitcoin Technicals Suggest Monster Rally Went Too Far, Too Fast," noted that a key indicator has signaled a retracement is in store; the GTI Vera Band Indicator, "which tracks upward and downward trends," purportedly moved "far above the upper-band limit."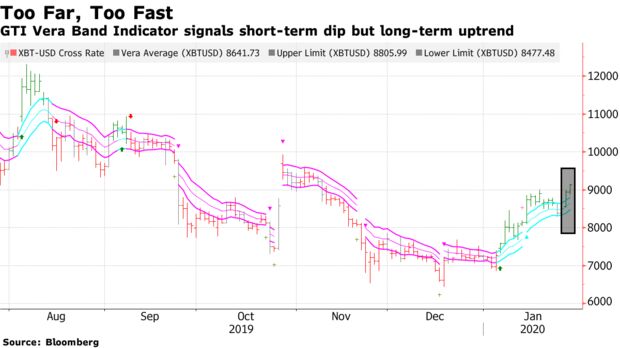 This, Bloomberg claims, is a likely indicator that there will be a "mean reversion" event that will push the cryptocurrency back to the $8,500 level.
Should this mean reversion take place, it will be the third that has taken place in January 2020. Indeed, as the above chart from the outlet shows, nearly every time over the past six months Bitcoin has extended above or below the bands, the price has bounced back, finding some normalization around the levels indicated by the signal.
Analysts have echoed this expectation for a short-term pullback towards the low-$9,000s and maybe even the high-$8,000s.
One trader popular on Twitter noted that there are "divergences" forming between Bitcoin's price chart on the one-day and the one-day indicators.
These divergences are depicted below; the price of Bitcoin has seen a consistent trend higher as the Relative Strength Index, Stochastic RSI, and Moving Average Convergence Divergence (MACD) — all three being trend indicators — posting lower highs, suggesting bulls are losing strength.
Bitcoin's Long-Term Trend Now Favors Bulls
Despite these signals, the growing sentiment among investors is that the seven-month-long bearish trend that brought Bitcoin from $14,000 to $6,400 is over.
Former eToro analyst and current CEO of Quantum Economics, Mati Greenspan, pointed out in a recent tweet that Bitcoin's latest surge higher has allowed it to break above the 200-day simple moving average (SMA).
This is important because this specific moving average is seen by technical analysts in crypto and on Wall Street as a level that hints at an asset's long-term directionality; if an asset is above this level, it's bullish, if it's under it, it's bearish.
This is especially relevant in the case of Bitcoin, with the cryptocurrency bouncing off the 200-day SMA multiple times in the 2017 bear market and failing to break past the level at least four times in the 2018 bear market.
Also, as reported by Blockonomi previously, former Goldman Sachs executive Raoul Pal noted that BTC has just broken out of a bullish "inverse head and shoulders formation." He added that the formation should make for a powerful breakout.
Bitcoin is breaking out of an inverse head and shoulder formation (with a very weak right should which make it often more powerful). It already broke the big wedge pattern. #bitcoin $BTC pic.twitter.com/v7XLtK2uac

— Raoul Pal (@RaoulGMI) January 28, 2020
The seeming target for this breakout is $12,500, with legendary Bitcoin analyst Filb Filb referencing this price point in relation to the head and shoulders pattern in a recent newsletter:
"Overall, Bitcoin is exactly where [I] anticipated; slowly grinding up towards previous resistance… I'm very much of the opinion that Bitcoin will reach to at least $12,500 level before the halving. [… I have a] target of $12.5k, which is the top target of the anticipated inverted head and shoulders pattern."