For over 48 hours, Bitcoin has flatlined — establishing a tight, less-than-10% range in the mid-$6,000s.
This comes after BTC embarked on a 25% rally from the $5,000s to a price as high as $7,100 that transpired this weekend and early this week, which coincided with a smaller but equally-as-notable increase in the value of gold.
Bitcoin's lack of direction comes as the stock market has rebounded hard. Really hard. Since the bottom near 18,000 points, the Dow Jones Index has rallied to 21,780 as of the time of writing this, marking a jaw-dropping recovery of 20%. Global indices have reflected this move, rallying almost as hard as the Dow.
This surge comes despite record-level unemployment claims around the world; in fact, numbers released Thursday morning revealed that 3.3 million Americans have filed for unemployment over the past week, which is four times higher than any previous record of this metric, and seemingly a sign that Great Depression-level unemployment is a possibility.
So, it seems that Bitcoin seems to be mostly nonreactive to news regarding traditional markets or traditional markets themselves, leaving many wondering what's next for the cryptocurrency.
Bearish Below $8,000
Despite the rally, most seem to be convinced that this is but a deviation from the $5,000s, where a majority of analysts expect Bitcoin to accumulate around prior to a bull market breakout.
Indeed, in a recent analysis published to TradingView,  cryptocurrency analyst Filb Filb explained that as long as Bitcoin remains below $7,000 and $8,000, it is leaning bearish. He cited the fact that there exists likely the "worst cluster of resistance seen since the bear market of 2018" at $8,000:
The 200-day moving average.
The 100-day moving average.
The 50-day moving average.
The 20-month moving average.
Bitcoin's 61.8% Fibonacci Retracement of the February high to the $3,800 bottom.
And the yearly pivot level.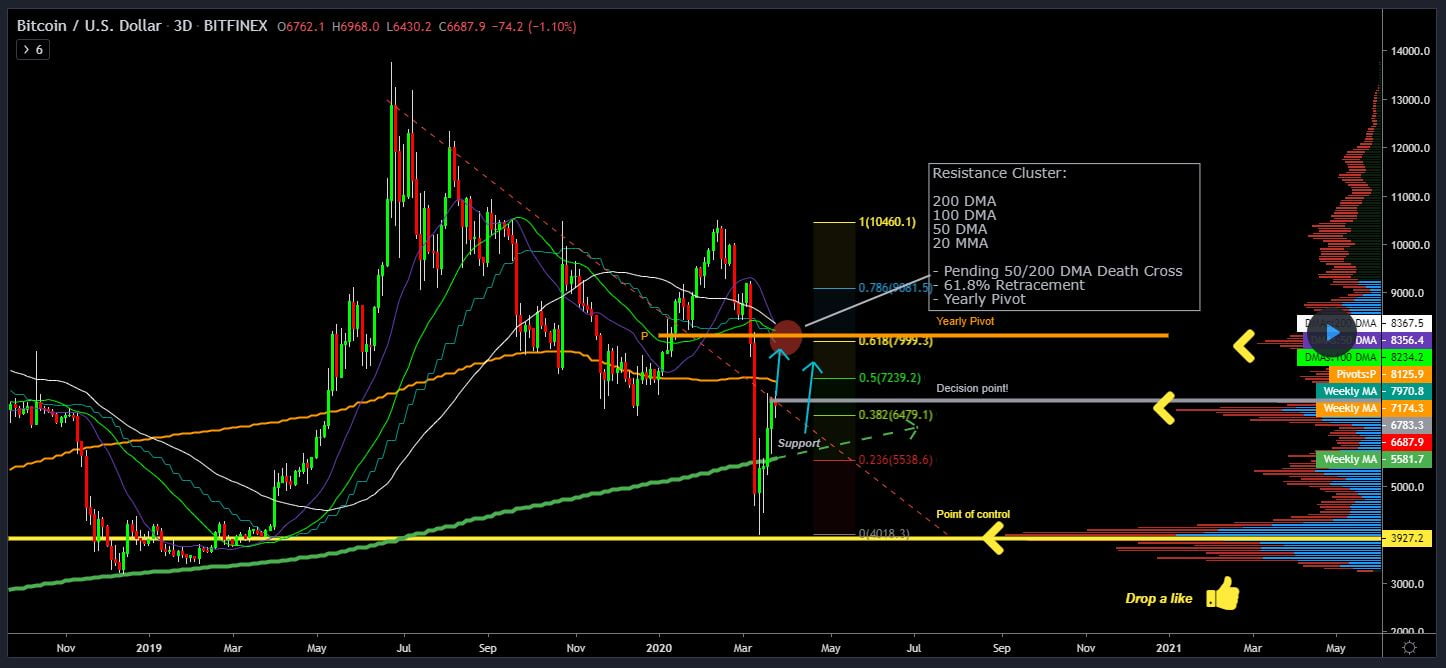 Furthermore, Nunya Bizniz on March 26th noted that Bitcoin's weekly candle is currently below the bottom band of the non-linear regression curve that has acted as support for Bitcoin for over eight years of price action, suggesting that the BTC's secular growth trend may be coming to an end, at least for the time being.
BTC Weekly: Non-linear Regression Curve

Bottom band looks to be acting as resistance.@renato_shira pic.twitter.com/VOlQzD7Ogv

— Nunya Bizniz (@Pladizow) March 26, 2020
Long-Term Outlook is Anything But Bearish
Some have ignored the short-term directionality entirely, arguing that whether it be $4,000 or $7,000, Bitcoin's fundamental strength is only growing.
Per previous reports from Blockonomi, Galaxy Digital founder Mike Novogratz told CNBC on Monday that he has been buying the dips in both gold and Bitcoin for one key reason: central banks have started to "run amok" with their policies amid these times of economic distress. He explained further:
If there was ever a time — debasement of fiat currencies, monetization of trillions of dollars of debt, this is the time for Bitcoin.
This was echoed by Placeholder Capital's Chris Burniske, the analyst who coined the term "crypto-assets." He wrote on Twitter that this crisis "will pass, and crypto's fundamentals will have strengthened through it."
10/ Most importantly, I hope everyone is staying as well as possible. While the future weeks are full of uncertainty, I know that eventually, this virus will pass, and #crypto's fundamentals will have strengthened through it.

— Chris Burniske (@cburniske) March 21, 2020
Burniske highlighted how "new technologies rise as old systems break, and often it takes a crisis to reveal the flaws of the old system in full," presumably referencing the issues fiat money and financial markets have seen as they've come under the record-level economic stress posed by the coronavirus outbreak.