The price of BTC fell by 3.5% in the past 24 hours, tumbling below $7,000 to trade around $6,800 for the umpteenth time in a few weeks' time before sharply bouncing back to over $7300.
Altcoins followed suit. Ethereum, XRP, and effectively the rest of the digital assets fell by a similar price, crushed under the weight of a falling Bitcoin before also mounting a recovery.
Interestingly, some altcoins are posting relative gains against Bitcoin, which marks a divergence in the BTC-centric trend that has transpired over 2019 due to institutional focus on Bitcoin and overall market trends.
Despite this volatile price action, analysts are convinced that Bitcoin's trajectory remains positive heading into the first half of 2020.
Bounce to $10k?
In a tweet that went crypto-viral, trader DonAlt noted that he thinks "we're gonna bounce big time in the next 3-6 months," drawing attention to the Bitcoin chart seen below.
In it, he shows that BTC is consolidating above the key macro support in the low-$6,000s, which is where Bitcoin needed to hold in 2018 to see any chance of a reversal out of the previous bear market. He added in a reply to his original tweet that he's "serious" in the assertion that the cryptocurrency market could soon jump.
I'm pretty sure we're gonna bounce big time in the next 3-6 months. pic.twitter.com/gfwhjLyJR1

— DonAlt (@CryptoDonAlt) January 1, 2020
DonAlt isn't alone in making this assertion. In October, prominent cryptocurrency trader Filb Filb posted the below chart, in which he noted that Bitcoin was likely going to bounce to $10,000, then crash all the way to the $6,000s from there.
While some may have laughed off this forecast the time, Bitcoin traded almost exactly as he charted, with the pump to $10,000 happening before a breakdown to the $6,000s. The same eerily-accurate chart implies that BTC will break higher towards $10,000 in January and February.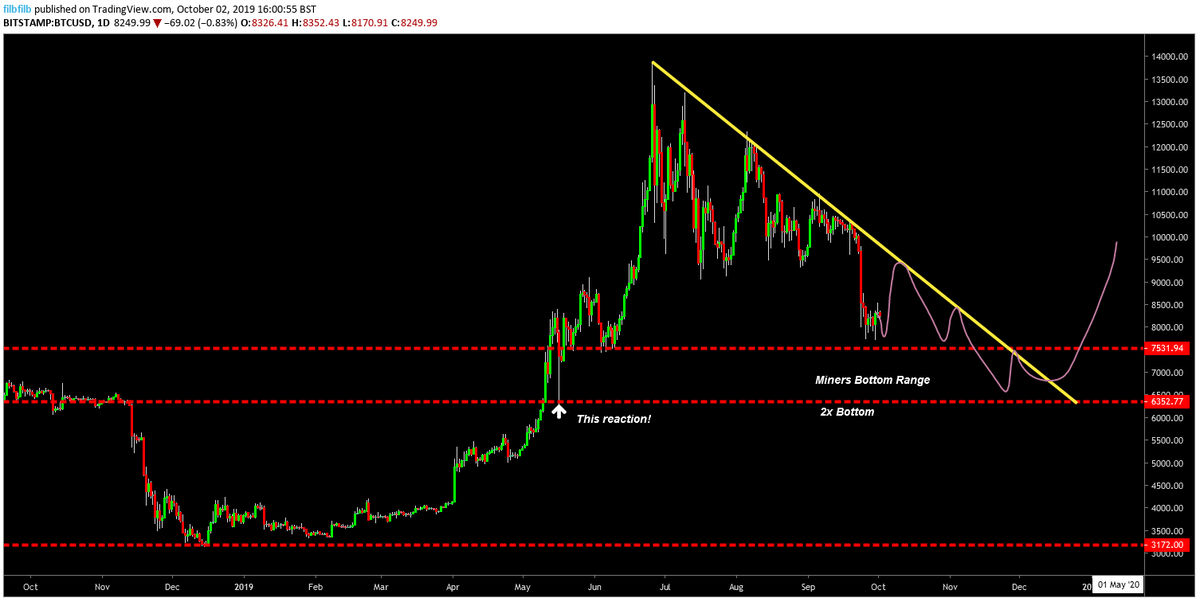 Fundamental Strength There Too
Not only are the technical indicators signaling bullish price action is on the horizon, but the fundamentals are too.
As noted by digital asset manager Charles Edwards, Blockchain.com, a cryptocurrency information and wallet service, found that Bitcoin's hash rate — the measure of computational power processing BTC transactions — hit a new all-time high on the 1st day of 2020. The all-time high, 119 exahashes per second, or 119 with 18 zeroes after it.
This surge in the hash rate breaks the previous all-time high set more than two months ago in October, meaning that Bitcoin's network is now stronger than ever before, marking an amazing start to 2020.
Bitcoin starting 2020 with a BANG.

Hash Rate hit a new all time high on 1/1/2020: 119M TH/s.

Finally broke above the last ATH set more than 2 months ago in October.

Bitcoin Network stronger than ever before 💪

Happy New Year! 🍾 pic.twitter.com/c0dfvewXfy

— Charles Edwards (@caprioleio) January 2, 2020
This hash rate surge to the upside has been reflected by Bitcoin's network difficulty. Alistair Milne, a prominent cryptocurrency investor and commentator, wrote on Twitter that Bitcoin's difficulty just hit 13,798,783,827,516, up 6.57% in the past two weeks.
The record hash rate and mining difficulty add to the fact that 2019 was Bitcoin's best year yet from a transactional standpoint.
TradeBlock, a cryptocurrency research firm, recently found that Bitcoin has seen a record year in terms of transactions sent and transaction volume denominated in USD.
The growth in transaction count seemingly stems from the growing adoption of the SegWit solution, allowing for more transactions to be put into each block, while the aggregate yearly Bitcoin transaction volume was aided by the price action over the past few months, which has forced exchanges and traders to use the network as a medium of payment.