By and large, 2018's downturn in the cryptocurrency market has been a time of loss, even for the most intelligent and experienced Bitcoin investors. Firms have also suffered, laying off staff left and right.
From its peak in early-2018, the aggregate value of all cryptocurrencies has fallen from $830 billion to $130 billion currently — a loss of 84%. But a startup, backed by the illustrious Mike Novogratz, intends to give investors a way to stack satoshis (fractions of BTC) and gwei (fractions of Ether), even as winter continues to nip at this market's extremities.
BlockFi To Offer 6.2% APR On Bitcoin & Ethereum Deposits
Forbes reports that BlockFi, a company that raised $52.5 million from investors like Novogratz's Galaxy Digital last July, has launched a potentially game-changing product. BlockFi has reportedly given clients across the globe the ability to make up to 6.2% annual interest on Bitcoin and Ethereum deposits. This "interest account" offering will go alongside BlockFi's loan offering, which allows users to borrow more than $2,000 at a 4.5% interest rate if they deposit collateral denominated in three leading cryptocurrencies. In an announcement, Zac Prince of BlockFi explained:
"BlockFi is the first crypto challenger bank. Bitcoin and crypto lending, especially to retail investors, is a nascent market. It has though been pushed on by institutional interest over the last year or so."
The Winklevoss Twins' Gemini Trust will be backing the novel offering through custody, which has full insurance coverage.
Bitcoin diehard Anthony "Pomp" Pompliano, who has invested in BlockFi through his venture fund at Morgan Creek Digital, broke down the offering in-depth in a post on Off The Chain. In Tuesday's edition of the publication, which Pomp heads, it was explained that the interest accounts could be the highest yielding deposit vehicle in finance. Better yet, it provides compound interest, security and fund safety through Gemini, and a crypto payout system that may be appealing for fervent investors in this space.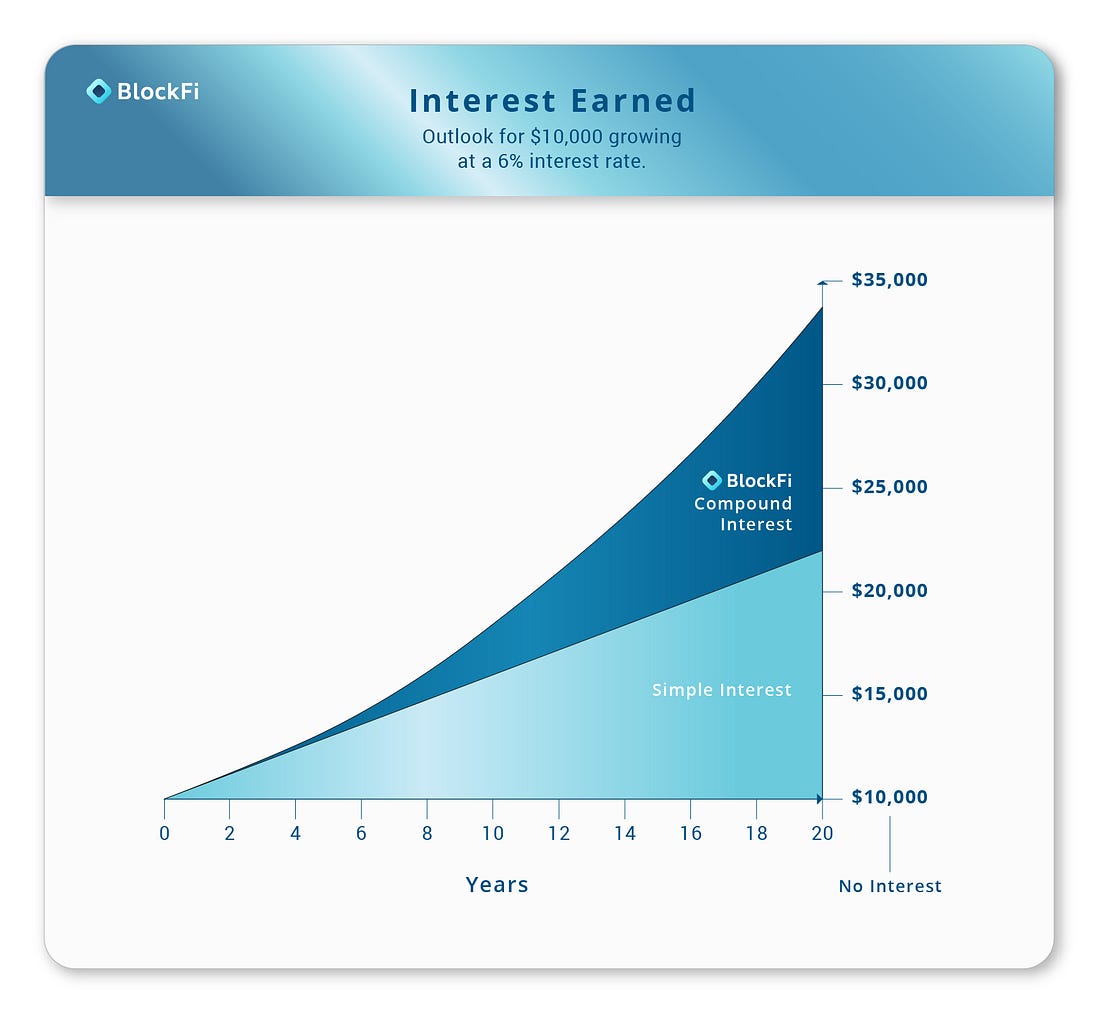 Could This Crypto Offering Spark Adoption?
To many, a 6.2% interest rate on their investment could be tantalizing. Per Ryan Todd, a research analyst at The Block, a soft launch of the finance offering in Japan saw big success, with the BlockFi team stating that their trial run in the Asian nation was "very strong."
BlockFi offering 6.2% on both BTC and ETH deposits changes the game. Will be interesting to see if/how centralized crypto deposit takers and lenders impact #DeFi volumes overtime. A thread:

— Ryan Todd (@ryanjtodd_) March 5, 2019
But, more likely than not, BlockFi's newest venture is unlikely to spark any form of widespread adoption the world over. And here's why.
6.2% may seem great and all, but everything is paid in cryptocurrency, meaning that the fiat value of BlockFi accounts could fall, and even worse, by more than the interest they receive. This could single-handedly deter mom and pop investors from allocating their capital to Bitcoin and Ethereum for a deposit on the blockchain-enabled lending platform. Moreover, it can be argued that there are similar (even better) returns in more established investments, especially in traditional equity markets.
But, maybe crypto doesn't need high-return investment opportunities to gain traction in corporate America and with the general public. Maybe all we need is solid infrastructure. And interestingly, such important facets of this space might be just around the corner.
The Ohio-based Kroger, for instance, recently dropped support for Visa credit cards due to increasing interchange fees. Within hours of the announcement, cryptocurrency enthusiasts began to bombard the retailer with messages, telling the chain to start accepting Bitcoin or another digital asset as an accepted medium of exchange. Pompliano joined in on the fun, pinging Kroger on Twitter in a bid to get the American company to look into trialing support for Lightning Network transactions, whose transactions cost much less than those made on Visa credit. Interestingly, a representative responded, and confirmed that he was in discussion with Pompliano on the matter. Kroger's potential acceptance of Bitcoin could be absolutely monumental.
Bakkt, a startup integrally tied to Intercontinental Exchange (ICE), was also revealed to have made strides in the mainstream adoption of cryptocurrencies. Reliable sources speaking to The Block recently claimed that there's a high likelihood the Seattle-based roastery chain could accept Bitcoin transactions in 2019, citing its partnership with Bakkt that reportedly involved a transaction of equity.