One of the crypto stories of the year in 2019 was undoubtedly PlusToken. The clear-as-day Ponzi scheme — which promised it would pay generous interest on deposits of Bitcoin, Ethereum, and other cryptocurrencies — managed to garner hundreds of millions of dollars, with some reports even suggesting it had upwards of $2 billion.
As reported by Blockonomi, there was one analysis by a blockchain analytics company suggesting that PlusToken's scheme managed to taint, to touch, nearly 10% of all Ether that was in circulation at the time it was in operation.
What's crazy is that the scam managed to do this under the noses of almost everyone in the Western crypto community, with very few actually hearing about this Asia-centric scam until some of its founders were arrested, which led the others to begin cashing out funds en-masse.
Unfortunately, it appears that other Asia-centric crypto scams are starting to crop up for the second year in a row. And even after PlusToken, some individuals seem to be falling for the schemes.
Crypto Scams Return
Over the past few days, we have begun to hear reports of an early-stage crypto Ponzi scheme being cropped up in Asia.
According to Dovey Wan — partner at Primitive Ventures — the scam, purportedly called "Antimatter Kingdom" (AK), is basically offering users  "an airdrop" on their Bitcoin balance. She wrote that it has become "quite popular" in Asia over recent weeks.
Although the returns advertised are not clear, AK claims 180,000 BTC has been "contracted" for "soul mining" through the wallet, which is then "locked" to generate returns through this mystical process.
But an analysis by Ergo, a pseudonymous blockchain analyzer that grew to fame by unveiling much of PlusToken's dirt, found that the address cluster related to the soul mining scam has garnered a total of 1,600 Bitcoin, or just around $11 million. The funds have since been sent to exchanges with lax KYC policy and due diligence procedure, Ergo wrote.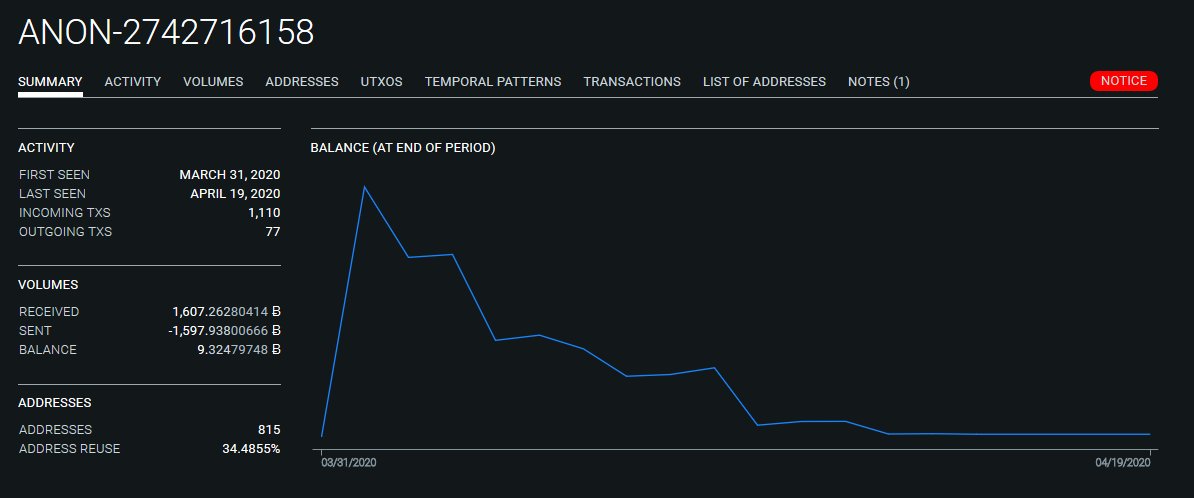 Fortunately, the scam seems to be dying down for now, with Blockonomi doubling checking the cluster of addresses involved in the scheme and seeing little activity, potentially confirming that the scheme is already complete after just weeks in operations.
Indeed, with so little BTC left in the address cluster, AK may have already deemed the pyramid unsustainable.
But, there's a possibility that the operators of the scam began to use new addresses and adjusted their techniques in response to the growing backlash from people like Ergo and Dovey Wan.
EOS "Wallet" Runs Away With $52 Million
As Antimatter Kingdom has appeared, another scheme has exited, leaving its users without their money.
According to Molly — the ex-head of Bitcoin Magazine's China branch —  an EOS "wallet" named "EOS Ecosystem" has just run away after garnering nearly 20 million worth of the altcoin, currently valued at approximately $50 million. No other cryptocurrencies were involved.
Molly's sources suggested that EOS Ecosystem operated with a very similar model to that of PlusToken: the scammers would entice users to deposit by offering high returns on their cryptocurrency, build a Ponzi pyramid through referrals, then cash out the money at the end of the day.
The similarities between PlusToken and this new exit scam don't stop there.
On-chain data and a report from Chinese crypto media site ChainNews suggests that funds are being siphoned through Huobi, which grew somewhat infamous in 2019 for facilitating much of the scammed PlusToken funds, blockchain analyses suggested.