At the start of February, fintech upstart Ripple Labs announced a partnership with Intermex, a remittance provider servicing the U.S. and Latin American payment corridor.
In the Ripple press release outlining this deal, it was emphasized that the international payment company would use Ripple's technology to enable "faster, transparent cross-border payments between the U.S. and Mexico."
The press release further accentuated Mexico as one of the most importance remittance markets:
Intermex is one of the largest U.S. to Mexico remitter service providers in the world—processing more than 30 million payment transactions a year through a network of 100,000 payer locations. Through this partnership, Intermex will be able to settle key currencies and match the timing of funding with its settlement requirements reducing costs.
Unfortunately, it seems that Intermex won't be using Ripple's tech for its core market: Mexico.
Talk about a turnaround.
Ripple Partner Won't Use RippleNet For "Core" Market
In its latest earnings call, the CEO of Intermex, Robert Lisy, revealed that it won't be leveraging Ripple's technologies, namely the XRP-utilizing product On-Demand Liquidity, for its core markets:
"So, you won't really see us leveraging Ripple in our core markets. I think it will bring us more growth in newer markets in places where we're exploring going into ancillary products, but probably not in our core business because those are really critical where we differentiate ourselves from others because of the kind of volume we drive."
Lisy further clarified by stating that "Ripple will not be an answer for places like Mexico," adding that he's proud of the infrastructure and partners his company has in that region, its core business and presumably its primary source of revenue.
This comes shortly after it was revealed that MoneyGram, one of Ripple's flagship partners, revealed that it liquidates all XRP it receives as part of the partnership, which is a deal that sees the remittance provider leverage ODL to increase the speed of settlement of transactions.
XRP Price Has Been Suffering
These two blows have been reflected in the value of XRP, which while not a direct representative of Ripple's performance as a company (far from), does react to news regarding the company.
As pointed out by Brave New Coin's crypto analyst Josh Olsewicz, during the crypto crash seen on March 12th and March 13th, XRP fell as low as $0.12, which is the lowest price the asset has traded at in almost three years.
This fact is even more potent when you consider that XRP is now more than 90% below its all-time high of $3.30, established at the peak of 2017's and 2018's crypto-mania.
just now looking at the $XRP chart

didnt realize it hit almost 3 yr lows

damn pic.twitter.com/aHZVRTn05m

— Josh Olszewicz (@CarpeNoctom) March 22, 2020
Unfortunately, it appears that XRP's underperformance may not be stopping anytime soon.
Veteran commodities trader Peter Brandt recently shared the below chart and message online:
I said I would never again post a chart of XRP. But, I thought you all might be interested in what it means to have 'White Space below'.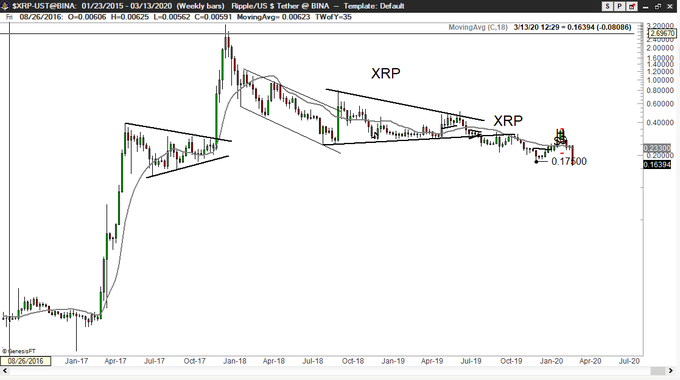 While he didn't convey a price prediction for the cryptocurrency, the comments in response to this chart filled in the gaps; what he depicted was that there is seemingly no price support for XRP until it crashes to prices far below $0.15, where it trades at now, as the cryptocurrency has fallen below a number of key moving averages and important technical levels.