As Blockonomi has covered extensively over the past few months, decentralized finance (DeFi) has exploded in popularity; the idea of putting financial applications into a decentralized medium, thereby increasing functionality and access, has attracted thousands of users and hundreds of millions of dollars worth of value.
Thus far, the success of finance on a blockchain has been relegated to Ethereum, which has, without a doubt, the leading DeFi ecosystem out of all blockchains. In fact, according to data from DApp Radar, finance applications make up a majority of the value going through smart contracts on the blockchain.
With this, many have gone as far as to say that DeFi is "Ethereum's killer use case."
It should come as no surprise, then, that competitor blockchains are trying to encroach on the success of Ethereum-based finance.
Tron Launches DJED, a System Offering CDPs
Last year at Consensus 2019, the founder of the Tron blockchain, Justin Sun, appeared in the below image. The image is of Tron's booth in the event hall of the crypto conference, headlined with the catchphrase "DARE TO DEFI."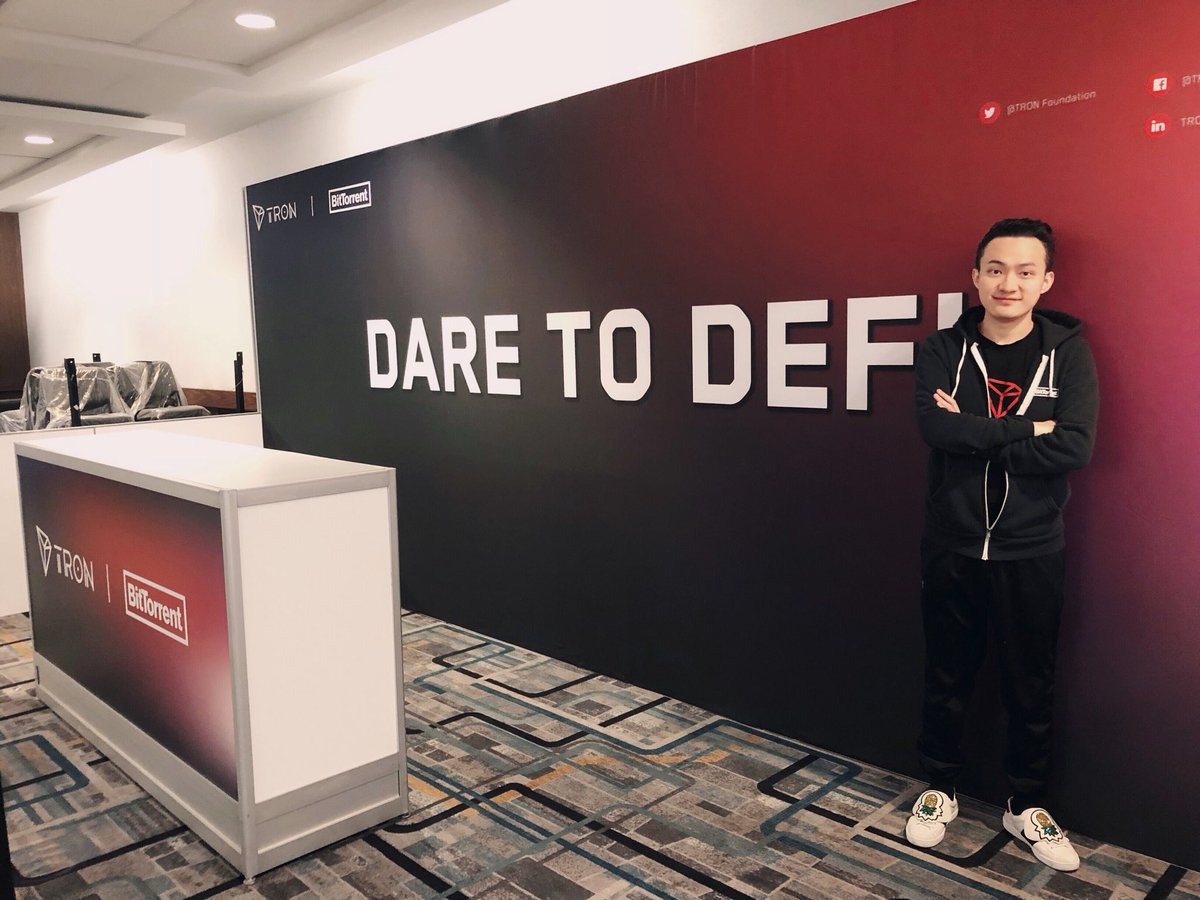 The funny thing was, at the time, Tron barely had any decentralized finance-centric applications, making the catchphrase out of place.
But this changed just recently. On March 28th, Sun released the somewhat cryptic tweet seen below, writing "Something new." and attaching the tweet with an image outlining a "CDP Portal."
Something new. #DJED #TRON #TRX $TRX pic.twitter.com/k0rbDtjT0Y

— H.E. Justin Sun 孙宇晨 (@justinsuntron) March 28, 2020
Later. it was revealed that what Sun was posting about is a new Tron-based application called "Djed," a project that touts itself as one that is "building the financial infrastructure for billions of people around the world." As a bit of context, Djed is an Egyptian symbol that represents stability.
The name is quite fitting: according to its webpage and the white paper of the project, Djed is a decentralized stablecoin solution that will allow users to put up Bittorrent and Tron tokens as collateral for a new stablecoin called "USDJ," which will be "backed by huge amount [sic] of asset reserves to maintain price stability":
USDJ is a new currency generated through decentralized smart contracts on the TRON network. Anyone can pledge TRX as collateral to generate USDJ. USDJ enters into free circulation as any other cryptocurrency does once generated. It is pegged to the US dollar through Collateralized Debt Positions (CDPs), and also has autonomous feedback mechanisms.
Djed is touted as a "user-friendly, borderless, secure, fair and prosperous" solution for Tron.
Ethereum Community Cries Foul
While no nod was made to MakerDAO, many were quick to draw similarities between the technical specs laid out in the Djed whitepaper and MakerDAO, Ethereum's flagship DeFi application.
It's easy to see why people are doing so; the mechanism through which USDJ can be minted and the terminology used in the whitepaper is eerily similar to that of MakerDAO, which pioneered the idea of allowing users to take out loans in a decentralized stablecoin by depositing cryptocurrency into a CDP.
Anthony Sassano went as far as to say that Tron copy and pasted MakerDAO's code, posting the below tweet:
How to build things on Tron:

Step 1. Ctrl+C
Step 2. Ctrl+V

Done. https://t.co/PLf1b0Bs6v

— sassal.eth ???????? (@sassal0x) March 28, 2020
But in creating a MakerDAO-esque ecosystem, Sun may just be complementing what Ethereum developers have done.
As they say, "imitation is the best form of flattery."
Good Timing? 
The launch of Djed seemingly comes at an opportune time.
As many likely remember, when the entire crypto market crashed on March 12th and 13th, MakerDAO was left reeling with losses due to blockchain clog and a glitch with the price oracles the system used to liquidate bad loans. In fact, the protocol became undercollateralized, with over $5 million worth of DAI stablecoin not backed by any Ethereum. 
Tron may have strategically launched Djed to try and take some DeFi market share from MakerDAO after it suffered those losses.