Unlike a majority of other leading crypto projects, Bitcoin doesn't have a formal company running it; the cryptocurrency is undoubtedly one of the most decentralized blockchain projects in the world, with no main offices, no CEO, no formal development schedule, and so on and so forth.
This may leave many wondering who's pushing the project forward as development is far from free.
BitMEX's research arm recently answered this pressing question in an extensive blog post, revealing who pays for the development of the Bitcoin network.
BitMEX Report Reveals Who Is Funding Bitcoin Development
According to a BitMEX Research report published March 28th that cited "publicly available information and speaking to certain individuals," Blockstream and Lightning Labs are currently funding the most open-source Bitcoin or Lightning Network developers at eight each.
These two companies are followed by Square Crypto, MIT's Digital Currency Initiative, Chaincode Labs, Purse, then many others, including exchanges like Bitfinex and BitMEX and firms like Xapo and Acinq.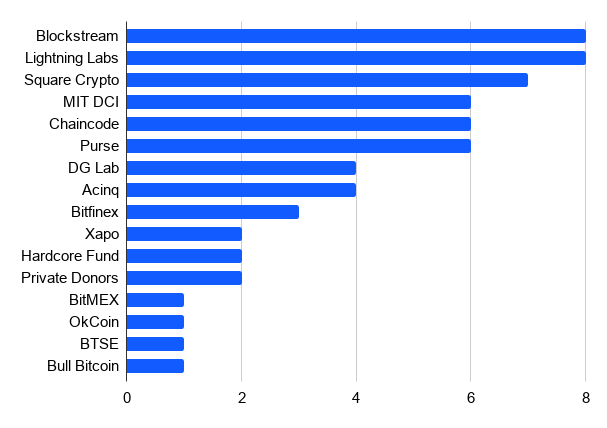 Importantly, developers can presumably be funded by more than one company in the space, so it isn't clear how many developers are represented in the above chart.
Notably, BitMEX was unable to garner the monetary value (or Bitcoin value, if you think that way) of the funding the companies send to developers (or if there are any strings attached to the funding).
Though, for some context, the Hardcore Fund, which funds two developers according to BitMEX's research, raised 50 Bitcoin (worth $450,000 as of the time of the news of this fund and $300,000 now) to fund full-time developers.
Furthermore, Square Crypto has hired four full-time Bitcoin developers while it also granted an undisclosed grant to a pseudonymous individual working on the Lightning Network.
Source of Bitcoin's Strength
According to Pantera Capital, this is one reason why the price of Bitcoin will outperform other cryptocurrencies for the foreseeable future.
In "Crypto In This Crisis: Pantera Blockchain Letter, March 2020," Dan Morehead and Joey Krug, the heads of the blockchain-centric fund, remarked that there's a high probability that Bitcoin outperforms a majority of altcoins amid the ongoing coronavirus crisis. The reason, Bitcoin is entrenched as a market leader and doesn't rely on venture funding to succeed per se:
It's a project that's already built, it works, it has an 11-year track record. Many newer blockchain and smart contract projects are still in development and might be stressed to raise funding to complete their development.
Indeed, with the ongoing coronavirus crisis that has impacted almost all markets, it is unlikely that venture capital funds and angel investors are looking to fund more risky altcoin projects as they would much rather be conserving their cash. Furthermore, the recent downturn in the value of Bitcoin has likely hurt the war chests of cryptocurrency projects, decreasing the likelihood they will spend much on development.
Pantera further explained that "there's typically a flight-to-quality" or flight to safety "where people want to put money in the mega-caps, the safest asset, "the Treasuries" of the industry." In the case of crypto assets, Bitcoin is a Treasury bond, as it is much more liquid than the rest.
Per previous reports from Blockonomi, the same letter also saw Dan Morehead suggest that Bitcoin will likely set a new price high (above $20,000) "in the next 12 months," adding that rapid growth that some bulls expect "is not going to happen overnight."