With Bitcoin consolidating just a few percentage points shy of the $9,500 highs over the past few days, analysts have been attempting to determine what comes next for the cryptocurrency market.
Filb Filb, a prominent trader in the space, recently weighed in on the matter, saying that while there is an opportunity for Bitcoin to retrace in the short term, he remains long-term bullish.
This analyst has made accurate calls in the past, like when he posted the chart below, indicating that he expected Bitcoin to the depicted trajectory in Q4 2019 and the first month of 2020.
While some laughed this chart off as pure bearish sentiment at the time, the prediction was proven to be nearly 100% accurate, with Bitcoin rallying briefly past the yellow resistance level, bottoming in the low-$6,000s, then hitting $9,000 in January.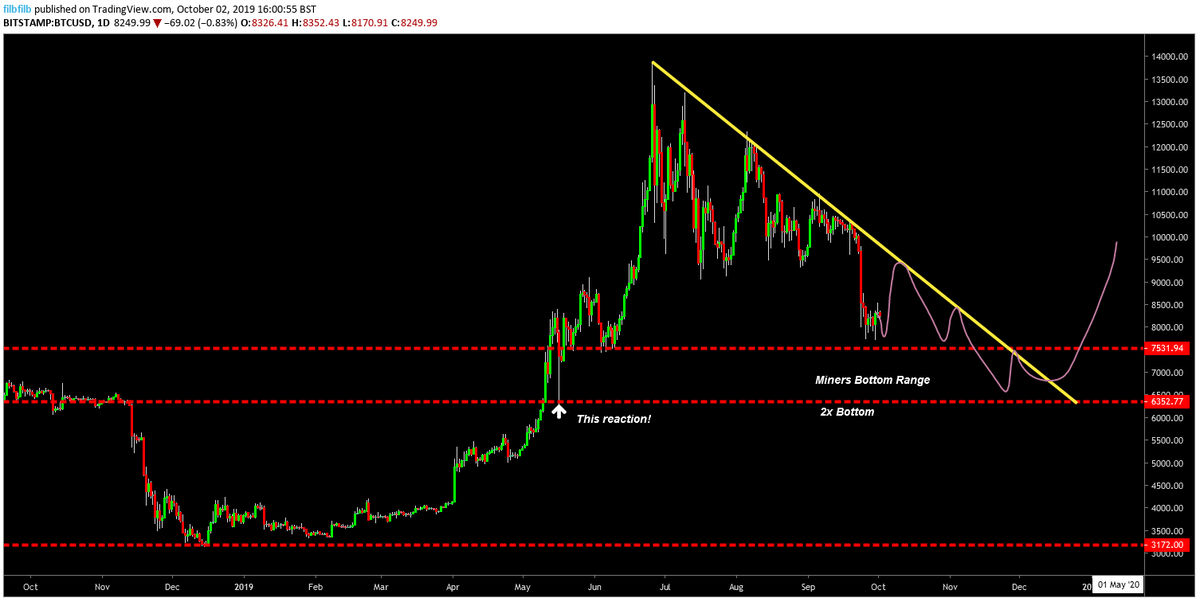 Bitcoin Likely to Pullback In Coming Weeks
Since the $3,700 lows seen in March, Bitcoin has performed surprisingly well, gaining well in excess of 100% in the seven weeks since the crash. BTC has done so well that on Sunday evening, the cryptocurrency closed its seventh consecutive week of gains.
It may be time for Bitcoin to cool off though.
In a May 5th edition of Decentrader, Filb Filb's newsletter, the analyst wrote that at most, Bitcoin will briefly cross $10,000, but will spend the next three or so months under $9,000 due to a growing propensity by traders to short BTC.
Explaining why he thinks traders are looking to short, Filb Filb looked to five factors:
There is "little time remaining" for Bitcoin to undergo a "halving pump"
BTC has already rallied by over 130% since the March bottom
Bitcoin is currently outperforming all other markets, up 24% year to date
Bitcoin is approaching high time frame resistance around the $10,000s
There is global economic uncertainty due to the COVID-19 outbreak
While some of the mentioned factors may be seen as a bullish, the confluence indicates the "expected course of price action will be to fill short interest," Filb Filb concluded.
Although Filb Filb does see a shot at a bearish reversal or multi-month consolidation in the short term, he remains bullish from a medium- and long-term perspective.
The Analyst Is Still Extremely Long-Term
Filb Filb asserted that he remains bullish on the long-term outlook for Bitcoin, noting that from a long-term perspective, strong supports are forming in the $6,500-8,000 range, pointing to the key technical levels in that range.
He added that per his analysis of miner profitability — which allowed him to call the $3,200 bottom and $6,400 bottoms in 2018 and 2019, respectively — he doesn't see a scenario in which miners won't be unprofitable under the $5,500-6,500 range.
This led him to the conclusion:
I notice some people get upset when I don't issue charts with a straight line up to $100k, but patience is required here and the necessary building blocks are there to get the price there, it's just best achieved through market memory.  Patience required but overall, it looks as good as ever to me.
Although Filb Filb didn't talk about his long-term prediction in this newsletter, he previously indicated that Bitcoin could hit $333,000 and beyond in the coming years.
He came to this conclusion by creating a valuation model through analyzing a number of fundamental inputs, including Bitcoin's supply & rate of adoption, total global financial transactions, and worldwide debt.
"This time it will be Different" $btc pic.twitter.com/godjk3P2pw

— filbfilb (@filbfilb) December 27, 2018