It's been an explosive past few weeks for Bitcoin. The cryptocurrency, after bottoming at $3,700 in the middle of March, has rallied over 170%, recently crossing back above the ever-important $10,000.
BTC has rallied so high that according to on-chain analyst Philip Swift, the cryptocurrency has only traded higher than it has today ($10,000 flat) 4.6% percent of the time Bitcoin has been in existence.
Bitcoin profitable days = 95.4% ????????

HODL #Bitcoin pic.twitter.com/7h8lzTFqVY

— Philip Swift (@PositiveCrypto) May 8, 2020
Although a 170% performance in two months is impressive, a top Wall Street investor is skeptical that the rally is complete, recently venturing as far as to say that $1,000,000 is possible — not a certainty, but a true possibility.
Could Bitcoin Hit $1 Million
Sharing a number of charts, including the one below, Raoul Pal — CEO of Real Vision and a former executive at Goldman Sachs — explained that he sees a world in which Bitcoin could rally to $1 million — 10,000% higher than the current market price of $10,000.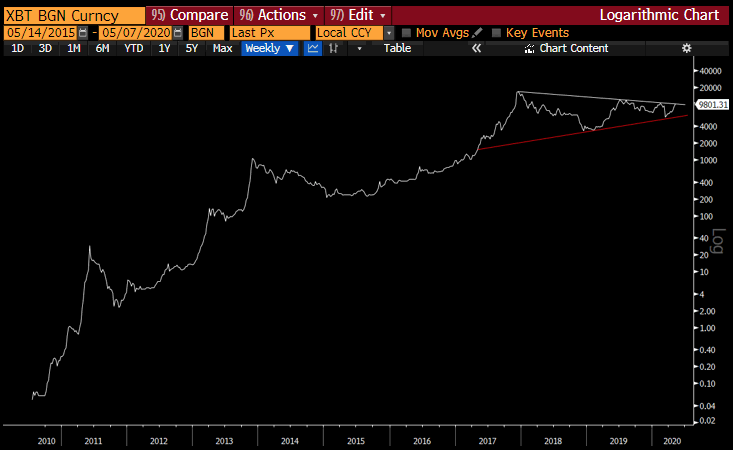 He explained that with the "KEY technical break like today, the probability of vastly higher prices has risen dramatically," adding that the confluence of the halving and the world's central banks printing more money than ever before is confirming this bullish assertion:
This is confirmed by stock to flow models by PlanB and the breakout has happened almost exact at The Halvening. Add to that HUGE the ENTIRE worlds central banks are […] printing money like CRAZY. quantitative easing fiat meets the hardest money that automatically quantitatively tightens.
This led him to the conclusion that Bitcoin is currently printing one of the "best set ups in any asset class I've ever witnessed…technical, fundamental, flow of funds and plumbing."
Pal isn't the first to have hopped on the "Bitcoin is going to $1 million" train in recent weeks.
Per previous reports from this outlet, Chamath Palihapitiya, CEO of venture fund Social Capital and one of the first executives at Facebook, argued to Anthony Pompliano of Morgan Creek that he sees a scenario in which Bitcoin rallies to a price of literal millions.
The investor, however, did say that this chance is somewhat low but noted that if the monetary conditions are ripe for hyperinflation or a large deflationary period, BTC could benefit as a "flight to safety" play. Palihapitiya and his partners purportedly owned 5% of the BTC supply in around 2013, making him well entrenched in the space.
Top Investors Are Flooding In
With individuals like Palihapitiya and Pal promoting Bitcoin, their contemporaries on Wall Street have started to respond.
There was no better example of this than Paul Tudor Jones, a billionaire macro investor.
In a note titled "The Great Monetary Inflation" obtained by Blockonomi, Jones explained that from how he sees it, the top cryptocurrency in the ongoing macroeconomic backdrop is eerily reminiscent of gold in the 1970s.
What happened with gold then, for those unaware, is the precious metal rallied hundreds of percent within years due to an influx of inflation (15% per annum at one point) and an abolishment of the gold standard.
Jones added while he subjectively sees Bitcoin as the worst store of value amongst fiat, gold, and financial assets, he sees the cryptocurrency as the "fastest horse in the race."
While he made no price prediction on Bitcoin, Jones concluded his thoughts on the cryptocurrency by writing that his fund Tudor BVI will be a "low single digit percentage" of its capital will be used to purchase Bitcoin futures.