Until this weekend, Bitcoin was on a near-unstoppable trend higher, rallying past key levels in the $7,000s, $8,000s, and $9,000s over the course of a few weeks. Though, over the past few days, the cryptocurrency has started to falter, plunging as low as $9,700 from last week's high of $10,550 — a drop of just over 8%.
Since the plunge on Saturday, the price of the cryptocurrency has recovered to $9,900, after hitting $10,150 in a recover early Sunday. Traders, unsurprisingly, aren't too excited about this volatility, arguing it could be a sign Bitcoin is on the verge of falling even further.
Some Fear Short-Term Pullback Possible
A popular analyst going by Crypto Hamster remarked that with the price of Bitcoin and its relative strength index (RSI) metric falling below an ascending wedge it has been trading in for the past two months, a retracement towards $9,000 and potentially lower is highly likely.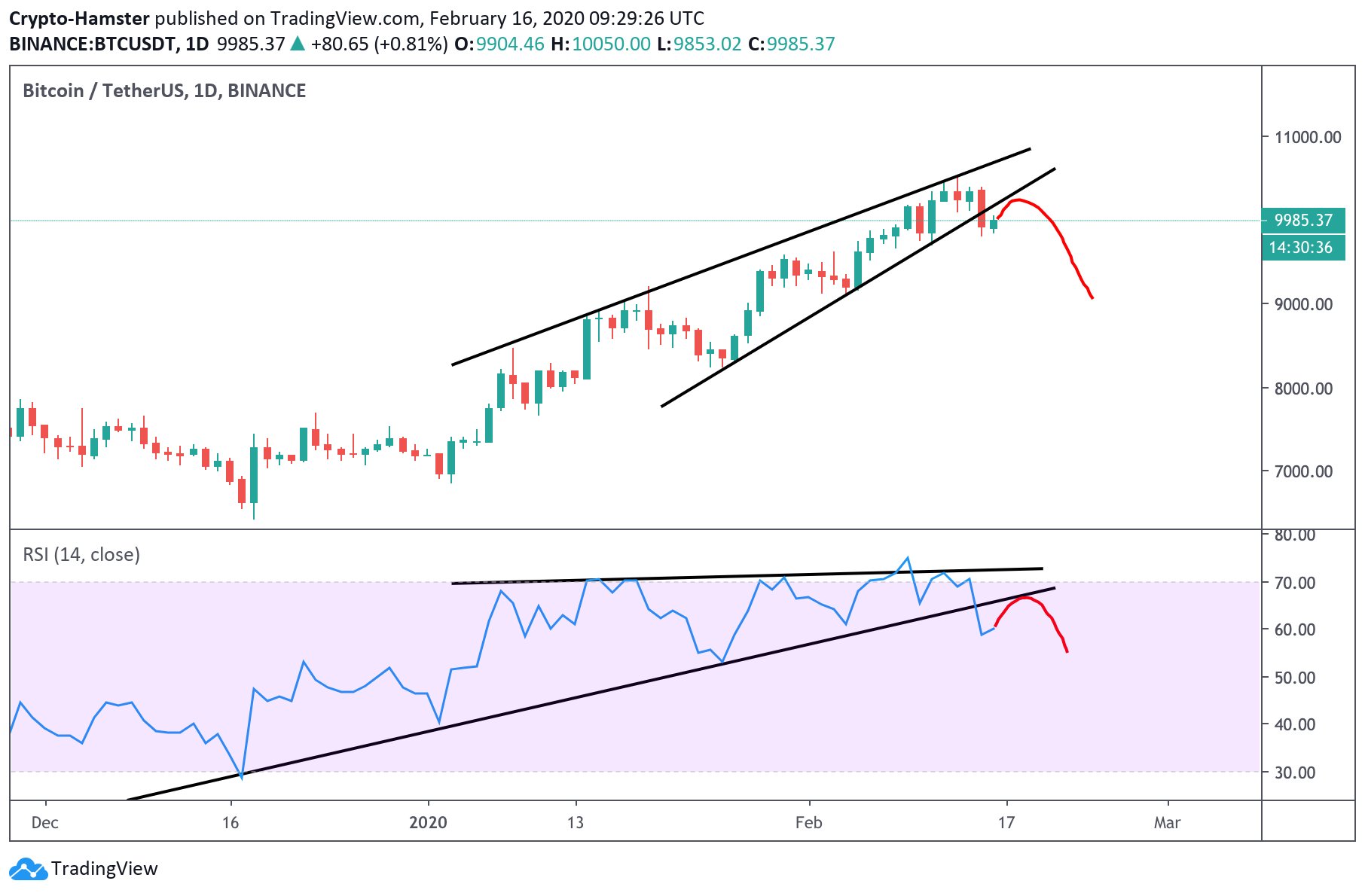 Not to mention, on the day Bitcoin's retracement actually started, the TD Sequential — a time-based indicator that signals when assets should reverse or continue a trend — printed a so-called "sell 9" candle on the one-day, two-day, and five-day charts of BTC, signaling a short-term correction.
While a very short-term correction has played out, textbook TD Sequential rules suggest a further dip is possible.
Have No Fear, There Remains a Bull Case
As normal, there are some on the other side of the market, arguing the recent retracement to $9,700 is actually more bullish than it is bearish.
Filb Filb  — the pseudonymous crypto trader who in September 2019 called Bitcoin's exact trajectory for the rest of the year and the first month of 2020 — recently noted that there is a "reasonable case" to be made that Bitcoin's price action over the weekend is actually just a correction in the ongoing (and still-existing) uptrend.
Indeed, Filb Filb posted the below chart, showing that there were two previous pullbacks of a similar magnitude. The chart indicates that should Bitcoin trade as it did following previous retracements, BTC could rally to $11,500 by the start of March, which would mark a 17% rally from the current price.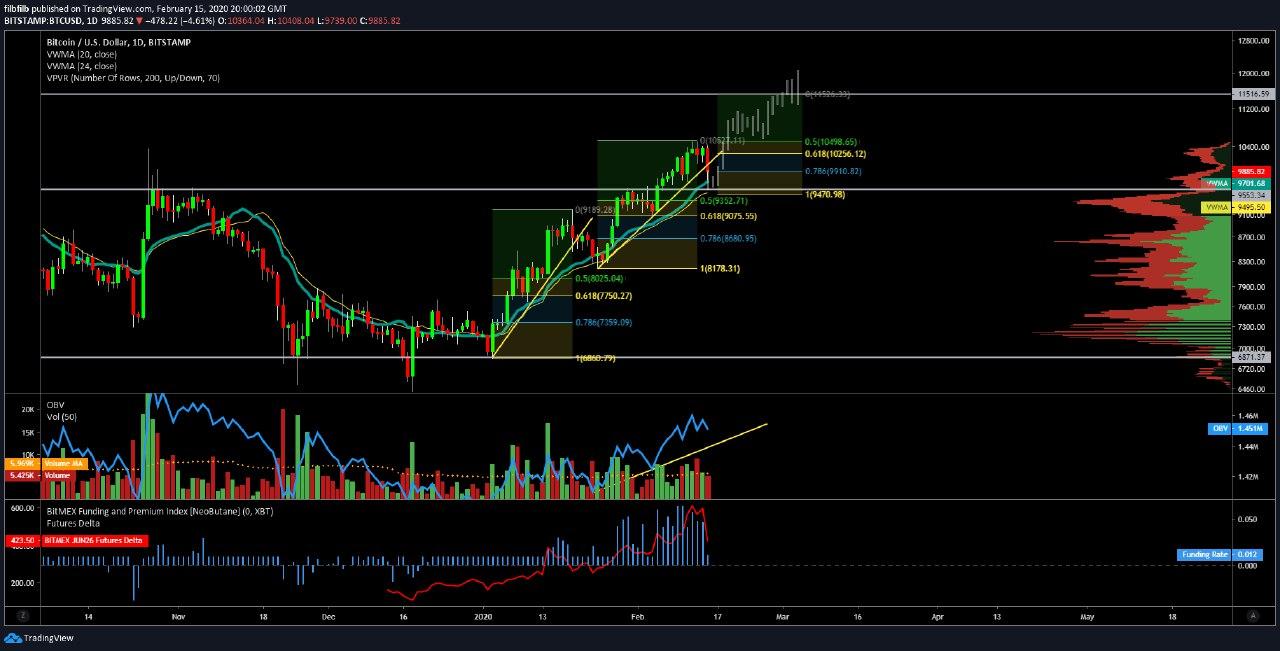 Other analysts have said that as long as Bitcoin holds $9,500 on a daily and weekly basis (which it has), the cryptocurrency will be on track to hit $11,500 in the coming weeks, citing how $9,500 has acted as an inflection point for this nascent market over the past few months.
Indeed, whenever BTC managed to turn $9,500 into a support level on a weekly basis, it managed to rally around 20% to $11,500.
Prominent Investors Sure Bitcoin's 2020 Trajectory Remains Positive
Despite the fears of a stronger retracement in the near term, a swath of prominent investors and analysts have argued the trajectory for Bitcoin in 2020 remains decisively positive.
Per previous reports from Blockonomi, Fundstrat Global Advisors' Tom Lee told CNBC in a recent interview that Bitcoin is likely to trade at $40,000 sometime in the future (an exact prediction was not given).
Lee backed this prediction by citing the confluence of technical and fundamental factors that could push demand for Bitcoin dramatically higher.
Some factors include but aren't limited to Bitcoin's reclamation and holding of the 200-day simple moving average, the upcoming U.S. presidential election likely driving regulatory pressure away from crypto, geopolitical and macroeconomic risk in trade wars and the coronavirus outbreak, and the upcoming block reward halving that in theory should shift Bitcoin's supply-demand dynamic further in favor of bulls.