Since hitting $9,200 late last week, Bitcoin (BTC) has paused, with bulls failing to maintain a momentum that brought the cryptocurrency 43% higher in a month's time at the peak of the recent price surge.
As of the time of writing this, the cryptocurrency has retraced 8 or so percent to $8,600.
Although some argue this correction is a precursor to a full-on return to a decisively bullish market, Bloomberg recently noted that the cryptocurrency just flashed a key selling signal from a technical analysis perspective, creating a bearish case for Bitcoin.
Bloomberg Claims Key Bitcoin Sell Signal Just Flashed
Per an article published by Bloomberg on Tuesday, Bitcoin's amazing start to 2020, which has made it effectively the best-performing "large" asset of the year thus far, indicates "potential trouble ahead."
The cryptocurrency's Global Strength Indicator (GTI), "a measure of upward and downward movements of successive closing prices," has just registered a sell signal.
This is notable as this is purportedly the first sell signal seen since Bitcoin peaked at $14,000 ($12,000 on Bloomberg's chart due to this being a chart of the slightly-different CME futures) in June.
Also, a sell signal almost appeared when BTC pumped 40% in a day to $10,000 after President Xi Jinping's blockchain endorsement.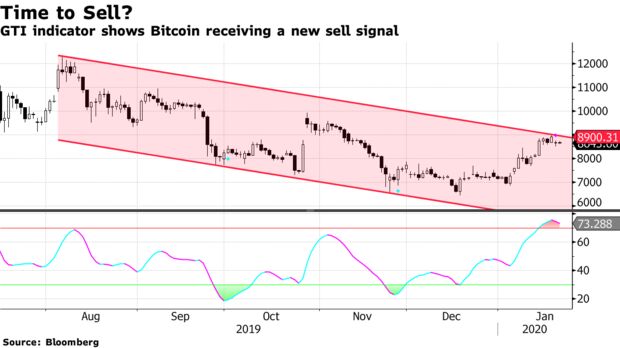 An analyst Bloomberg talked to, Matt Maley of Miller Tabak & Co., remarked that the bearish technical analysis outlook has been echoed by the fundamentals:
"On a technical basis, it's getting overbought and more importantly for political reasons I think there are just too may political headwinds for a cryptocurrency to get the kind of traction the bulls think it will."
This was further underscored on Tuesday when Ray Dalio — co-founder of Bridgewater Associates, one of the world's leading hedge funds and icons on Wall Street — asserted in an interview with CNBC at Davos' World Economic Forum event that he believes Bitcoin isn't a good form of money in the slightest.
He said that he thinks Bitcoin is a bad store of value because of its volatility and poor medium of exchange, presumably citing the fact that the cryptocurrency has a small transactional throughput.
Dalio added insult to injury when he said that when it comes to it, central banks won't buy Bitcoin to hedge risk, but will instead buy precious metals like gold.
This partially quashed a thesis of some investors that some central banks will start to diversify into Bitcoin to better manage risk and potentially set the stage for a cryptocurrency revolution.
Other Prominent Sources Are Actually Bullish On Bitcoin
Despite this, other prominent sources are bullish on Bitcoin.
Per previous reports from Blockonomi, senior commodities strategist Mike McGlone of  Bloomberg noted in an extensive report on the cryptocurrency market that Bitcoin is preparing to have a positive year.
McGlone wrote that he expects for Bitcoin to extend its gains back towards $14,000 sometime this year. McGlone specifically looked to his sentiment and the growing mass of evidence that suggests Bitcoin is becoming a safe-haven investment that is closely correlated with gold.
Fundstrat Global Advisors, a top market strategy and sector research company based in New York, also weighed in.
It wrote in a report published earlier this year that they expect for BTC's price to see 100% appreciation in 2020, citing three reasons:
Bitcoin's block reward reduction that will cut its inflation in half could create positive supply-demand dynamics that favor bulls
Geopolitical risk could prove Bitcoin's value as a safe-haven or alternative investment play
The 2020 elections for the Presidency in the U.S. could affect markets.