Catching many traders with their pants down, Bitcoin rallied a jaw-dropping 10% in 20 minutes on Thursday, jumping higher from $7,050 to $7,800 within that short period of time.
It was a move that liquidated $70 million worth of short positions on BitMEX, the biggest amount of daily liquidations in a month.
The cryptocurrency has since retraced a good portion of those gains, returning to $7,500 as of the time of this article's writing. Even still, analysts are convinced that Bitcoin has even more upside in the cards, citing a confluence of technical and fundamental factors.
Bitcoin Readying to Break Even Higher
Summing up the thoughts of many crypto analysts well, a prominent pseudonymous trader published the chart below with the attached caption:
Imagine seeing this Bitcoin chart with less than 3 weeks to go before the halving and genuinely being bearish.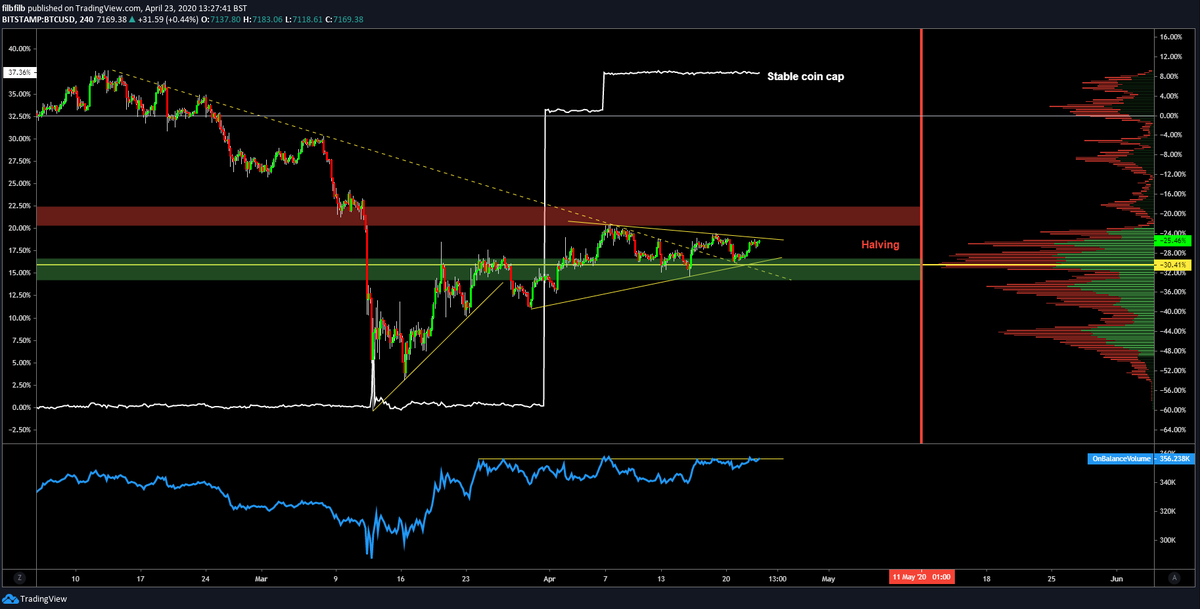 Indeed, the chart paints at least four signs indicating that Bitcoin is going to perform extremely well in the coming months. They are as follows:
The on-balance volume indicator, which tracks momentum by relating price and market volumes, has seen a breakout above a trend line, suggesting bulls could bring Bitcoin even higher.
Bitcoin has recently broken above a key descending trendline that marked the $10,500 top and has held a key support zone in the mid-$6,000s.
The market capitalization of all stablecoins has continued to trend higher, with Tether's market capitalization alone surmounting $7 trillion. Some believe that the amount of stablecoin in existence is indicative of how much money there is waiting to buy Bitcoin.
And the halving is now less than three weeks out.
There's also been an analysis by Nunya Bizniz, a Bitcoin chartist, that depicts the cryptocurrency is in the midst of a textbook bottoming pattern called the "BARR bottom," which was first discovered by technician Thomas Bulkowski.
It predicts that by the start of May, just before the halving, BTC will be trading back near the 2020 highs at $10,500.
Long-Term Bull Case is Forming Too
Although the abovementioned analyses are all well and good, they only consider the short to medium-term outlook for Bitcoin, the next few months to the next year or so.
But according to Raoul Pal — a former Goldman Sachs executive and the current CEO of Real Vision — Bitcoin's long-term prospects, too, are looking overwhelmingly strong, despite the overarching risks of a further global pandemic and potential economic depression.
In a stunning Global Macro Investor research piece titled "The Unfolding," Pal, who also runs the research outfit, explained that he sees a legitimate chance Bitcoin hits $100,000 to $1 million in the coming five years. The piece, unsurprisingly, had its own bout of virality within the crypto space.
The reason why he was so bullish on Bitcoin from this time perspective was simple, with the ongoing economic crisis, Pal is pricing in a risk "of the failure of our very system of money" or at least a collapse of the "current financial architecture."
Bitcoin, the former Wall Street investor explained, is a likely solution should this collapse happen:
"It is an entire trusted, verified, secure, financial and accounting system of digital value. […] It is nothing short of the future of our entire medium of exchange system, and of money itself and the platform on which it operates."
Pal is so convinced of Bitcoin's long-term potential that he said he kind of hopes it plunges once again, as scooping up the cryptocurrency at lower prices will increase the returns at the end of the day.