Just five years ago, Bitcoin and cryptocurrencies were a fringe asset class that was unnoticed by most.  But as the digital asset market has gained value over the past three years, the attention this industry gets has increased at a rapid clip — so much so that there are now governments trying to form national cryptocurrency mining strategies.
Iran Starts to Push for Crypto Mining Regulation and Plan
Iranian President Hassan Rouhani is moving to implement a national strategy for cryptocurrency mining, though details have not yet been hashed out, ARZ Digital reported earlier this week. Rouhani made these comments in front of officials from the Central Bank of Iran, the Department of Energy and Information, and other ministries pertinent to Bitcoin mining.
The strategy will purportedly involve the regulation of private mining operations and the management of cryptocurrency mining revenues, which would allow the government to tax Bitcoin from miners.
The pretense for this move was not made clear by ARZ Digital, though Crypto Twitter has postulated that this is a move to increase Iran's dominance in the Bitcoin space and to prevent capital from leaving Iran's borders.
Governments May Respond
Max Keiser — a former Wall Street trader turned one of Bitcoin's most public and outspoken bulls — believes that Iran's move towards getting a national grip on mining will spark a game-theoretic response from other nations that will drive prices higher.
"Bitcoin is unconfiscatable, uncensorable, digital Gold (but better), and going to $400,000," Keiser wrote in response to the breaking of the story.
It could also be theorized that by delving into Bitcoin mining on a truly national level, which would allow Iran to garner millions of dollars worth of cryptocurrencies to potentially bypass sanctions, the U.S. would be forced to seriously respond to "the threat of" cryptocurrencies.
It's not like this is without precedent.
In November 2018, the U.S. Department of the Treasury's Office of Foreign Assets Control "took action" against "Iran-based individuals" by blacklisting their Bitcoin addresses. The individuals were involved in a ransomware scheme that made thousands of Bitcoin, the Treasury alledges.
And earlier this year, The New York Times reported that the Trump administration and the Treasury were taking the threat of cryptocurrencies seriously, especially in regards to sanctions. Treasury Secretary Steven Mnuchin said at the time:
"We are about to roll out some significant new requirements… We want to make sure that technology moves forward; on the other hand, we want to make sure cryptocurrencies aren't used for the equivalent of old Swiss secret number banking."
China Is Taking a Different Route
While Iran is looking to control Bitcoin mining, reports indicate that China is once again looking to shut down its cryptocurrency mining industry entirely.
On Friday morning, the screenshot seen below of a Chinese government announcement began to make its way around Twitter. Asian-focused blockchain and financial technology media firm PANews said on the image:
"The Financial Administrative of the Sichuan province of China has issued a notice to its subordinate offices ordering them to 'guide [Bitcoin and crypto] mining entities to end their mining activities in an orderly manner'."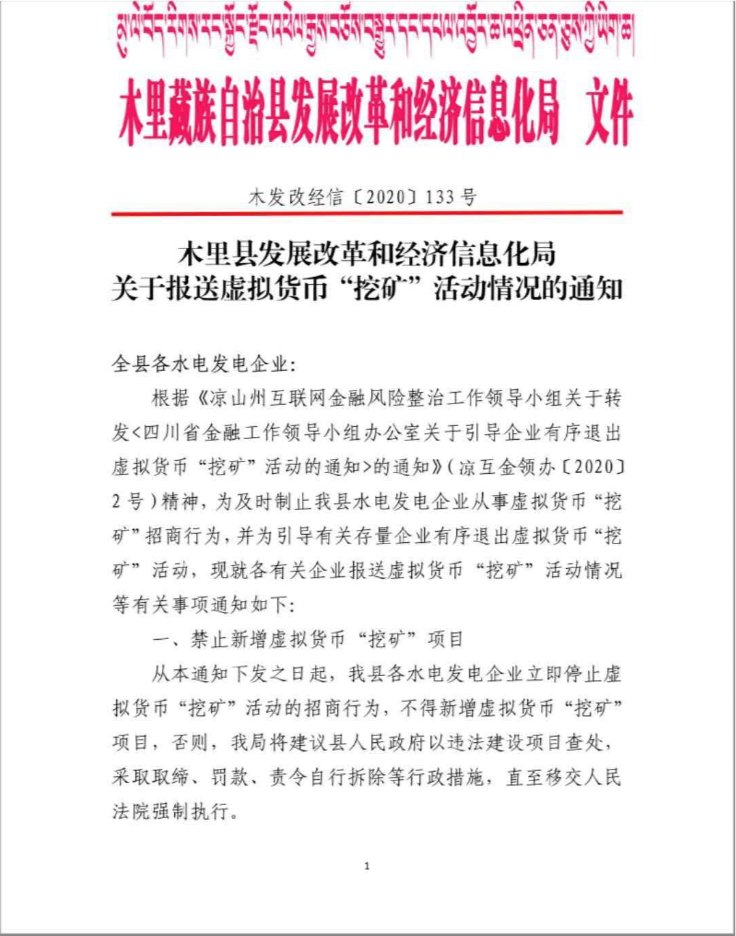 Sichuan is notably one of the world's most centralized locations for Bitcoin mining due to the region's reliance on hydroelectricity, which is abundant in supply and cheap — good conditions for miners.
Though, according, to Matthew Graham, the chief executive of Sino Global Capital, the fears of a ban are overblown:
"China is not banning mining, it's complicated as usual, messages frequently conflict especially at local or regional level. Actual message is basically 'don't use local government support for mining to illegally raise money'. Thank you," Graham wrote, trying to dissuade the fears of a Chinese crackdown on BTC.