Bitcoin has been on an absolute tear since the year started. Since January 1st, the price of the leading cryptocurrency has rallied by just over 35%, surging from $7,100 to $9,600 as of the time of writing this article.
Although some analysts have said that this is too far, too quick for the cryptocurrency to surge, Bloomberg's senior commodities analyst, Mike McGlone, recently revealed that he remains optimistic about the cryptocurrency's prospects in 2020, calling the trend "favorable" for the embattled asset.
Why a Leading Bloomberg Analyst is Bullish on Bitcoin
In Bloomberg's Crypto Outlook for February 2020, analyst Mike McGlone wrote that Bitcoin remains positive, citing the fact that the "indications for the first-born crypto remain favorable in the key metric that matters for an asset where supply is increasingly limited — adoption."
McGlone, backing his sentiment that Bitcoin adoption is increasing, looked to the growing number of active addresses on the network, which is an on-chain metric that many say is an indicator of investor demand:
Address totals suggest Bitcoin is likely to sustain above $9,000, as we see it. One of the most robust indicators of the 2018 price decline and 2019 recovery — the 30-day average of Bitcoin active addresses from Coinmetrics — is the highest since July, when the price peaked at about $14,000.
Other factors implying increased adoption include the trend of Bakkt, Fidelity Investments, and other financial institutions starting to seriously dabble in Bitcoin financial services and there have been strong developments in the mining space.
The analyst also wrote that Bitcoin's strong growth in hash rate — the measurement of how much computing power is being allocated to the cryptocurrency's network — is another positive sign.
Not All of Bloomberg is Bullish
While McGlone is bullish, it is important to note there are conflicting views with the organization of Bloomberg, which hires thousands of analysts and writers.
An article published just days ago contained the below chart, which shows that the GTI Global Strength Indicator is printing a sell signal, suggesting downside is likely.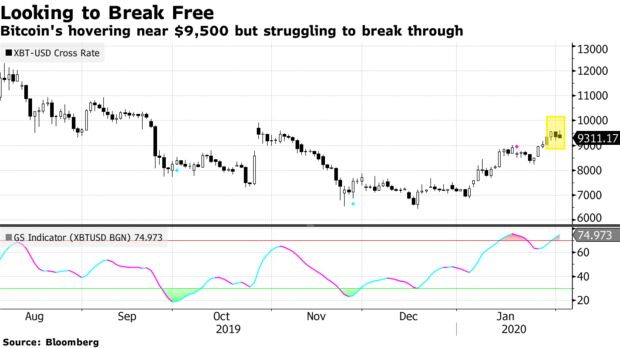 And Bloomberg editor Joe Weisenthal mentioned the Bitcoin surge in a recent newsletter, writing that BTC's underperformance against altcoins shows that the "key narratives that believers want to push for the long-term aren't yet being fulfilled," referencing the sentiment that Bitcoin should outpace all other cryptocurrencies due to the impending block reward halving or its growing classification as a safe haven asset.
HERE'S WHY IT'S BEEN A BAD YEAR SO FAR FOR BITCOIN

(From today's @Markets newsletter https://t.co/e5TYtjIuOw) pic.twitter.com/sXo01ct33a

— Joe Weisenthal (@TheStalwart) February 4, 2020
Far From Alone in Being Bullish
McGlone is far from the only prominent analyst working in the cryptocurrency space to have touted such lofty opinion.
Per previous reports from Blockonomi,  Tom Lee — co-founder of New York market research firm Fundstrat Global Advisors — said that Bitcoin has a very strong trend in 2020 due to the following three factors:
The upcoming 2020 Presidential Election in the US, which he claims will decrease regulatory pressure on Bitcoin.
The upcoming Bitcoin block reward reduction, known as a "halving," that will decrease the inflation rate of the asset by 50%.
The rising geopolitical tensions, especially in Iran.
Lee also anecdotally said that his firm has been seeing an increasing interest from clients regarding cryptocurrency, echoing a comment made from Mike Novogratz, a former partner at Goldman Sachs, made on Wednesday regarding the same topic.
Also, Novogratz told Bloomberg last week that the increasing central bank injections in the markets, Bitcoin proving itself to be digital gold, and the trend of there being more crypto infrastructure than ever before will bode well for BTC prices in 2020.
He didn't give a prediction on air, but he wrote  in a "2020 prediction" tweet that he expects for Bitcoin to finish this year over $12,000, which is notably muted compared to a $20,000 call by early-2021 he made on Bloomberg late last year.