Bulls, unfortunately, were dealt another blow on Monday, with Bitcoin continuing to sell off after rallying as high as $10,025 on the weekend.
At the day's low, the cryptocurrency was trading as low as $9,490 on some exchanges, far below the five-digit price point where it started the day.
Despite the renewed selling pressure, there remain many still bullish on Bitcoin, citing a confluence of factors as to why they think this short-term volatility is just noise in the larger and brighter crypto picture.
Analysts Remain Optimistic Amid Bitcoin's Weakness
When Bitcoin started dropping towards $9,500 on Monday, analysts across the board had their eyes glued to the charts, waiting with bated breath to see how the cryptocurrency would react at that crucial price point.
After breaking below $9,500 for a few seconds, the cryptocurrency bounced back relatively hard, surging as high as $9,600 in the minutes that followed.
The bounce was later confirmed when BTC closed its daily candle for Monday at approximately $9,600, negating some negative side effects of the drop.
While it wasn't a pretty candle per se, analysts say it is a silver lining in the shaky conditions the cryptocurrency market has exhibited over the past few weeks.
Below is an analyst's chart of this silver lining, which shows that despite Bitcoin printing a series of lower highs, it has been holding $9,500 as if its life depended on it, suggesting there remains a good amount of buying pressure in the crypto markets.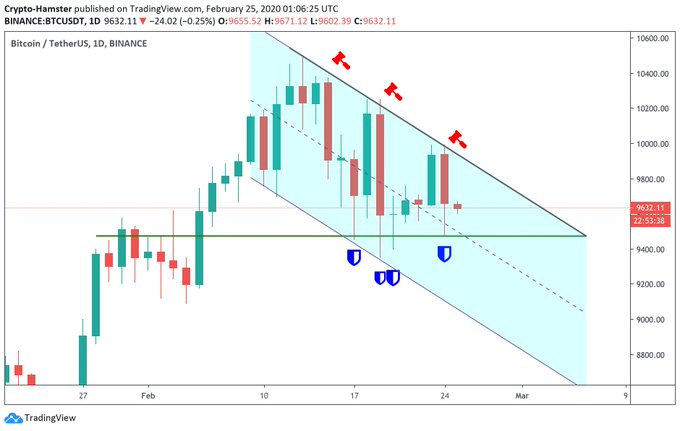 This holding of $9,500 is important as the price point has been defined as "major" support by many an analyst, noting that this is where Bitcoin's "China pump" topped in 2019 and where a few key technical analysis levels sit.
And not to beat a dead horse but Bitcoin printed what is known as a golden cross earlier this month, whereas its 50-day simple moving average crossed above the 200-day moving average after forming a death cross last year.
This is especially relevant for Bitcoin because previous golden crosses led to extremely strong rallies.
Indeed, this writer found that when a golden cross was seen in 2015, a rally from around $300 to $20,000 followed, and when another was registered in 2012, it ended up being a precursor to an over 20,000% rally that took Bitcoin from well under $10 to $1,000.
Gold Surges, Boosting Bull Case for BTC
As hinted at in a previous Blockonomi market update, the recent strength in gold could add to the Bitcoin bull case.
Over the past 24 months, the embattled precious metal, which has dramatically underperforming stocks and other mainstream assets since the 2008 Great Recession, has finally started to show signs of an uptrend.
After rallying over a dozen percent in 2019, the price of a gold ounce continued to surge higher into 2020, establishing a new all-time high against a number of currencies.
Most recently, the metal hit a seven-year high against the U.S. dollar on Monday, reaching a price just shy of $1,700, buoyed by a tumultuous stock market, which itself was moved by fears that the coronavirus outbreak from China is moving into the West.
This strength in gold, senior commodities analyst at Bloomberg Mike McGlone has claimed, may add to Bitcoin's strength moving forward:
There's little to push it lower when considering a shrinking supply, increasing adoption and favorable macroeconomics. […] Our graphic shows seemingly entrenched trends: appreciating quasi-currency prices and declining bond yields. Given advancing debt-to-GDP levels, notably in the U.S., Japan and China, it's little surprise that alternative stores-of-value are gaining.
It is important to point out that there have been some cracks forming in the narrative that Bitcoin is meant to be a digital counterpart to gold and other risk-off assets.
Monday's price action was a perfect case in point: Bitcoin dropped alongside the S&P 500 and Dow Jones while gold rallied. Also, when BTC has traded alongside gold in the past, the correlation has always been somewhat imperfect and sometimes entirely non-existent, with the cryptocurrency often rallying or crashing minutes before or after the precious metal does something similar.