At long last, the Bitcoin block reward halving is almost here.
In approximately 17 days according to BitcoinBlockHalf.com, the number of coins issued each and every block, every ten minutes (on average), will fall from 12.5 to 6.25 immediately, resulting in a 50% inflation cut.
It's an event that investors have been waiting for since the last halving in 2016, which marked the start of a 4,000% rally from around $500 to $20,000 over the course of a year and a half.
It should come as no surprise, then, that the hype around the halving is heating up as investors are anticipating yet another bull run in the wake of the next halving.
Bitcoin Halving Starts to Trend on Crypto Twitter
According to the below image shared by cryptocurrency data provider The TIE on April 23rd, as Bitcoin has rallied over the past day, the "halving has completely jumped mentions of gold" on Twitter.
Bitcoin tweets involving the halving, they claimed, have jumped by 63% in a single day, making it the second most-used word other than Bitcoin as of the 23rd.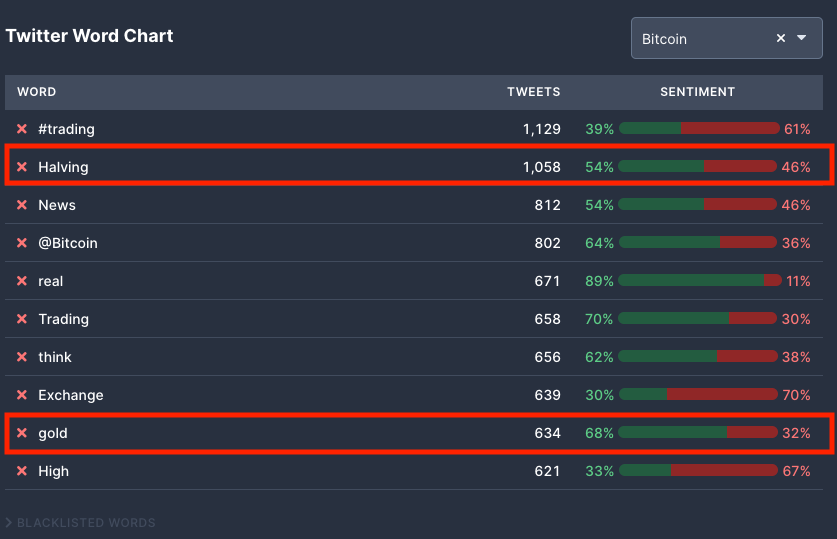 It's far from a trend that's only happening on Twitter, other social media platforms are seeing a spike in demand for Bitcoin halving-related content as well.
For one, Google Trends indicates that in March, global Google users searched "Bitcoin halving" more than any month before. They also project that in April, "Bitcoin halving" will be searched two times more than last month, which was already a new all-time high.
On a more regional level, Molly — the former head of Bitcoin Magazine's China operation — wrote on Wednesday that the Chinese term for "Bitcoin halving" has recently gone viral on Weibo, also called China's Twitter.
The topic was the sixth-most searched topic on Weibo for a brief period of time, showing real retail interest in the event despite China effectively banning the purchase of Bitcoin through yuan.
Perfect Timing
The halving comes at a perfect time: it comes at a time where the psychological and actual value of fiat money is seemingly being debased by governments and central banks, which are now printing it at a rapid clip, more than ever before, in an attempt to save the global economy.
We just saw it with the U.S. government this week when they signed off on a nearly $500 billion stimulus bill, adding to the previous $2+ trillion in fiscal stimulus they already agreed to. Yes, some of the money that will be distributed is for loans, but it's not perfect, the stimulus will be partially funded out of money created out of thin air as debt.
Bitcoin, on the other hand, is getting quantifiably harder as a form of money, which creates an imbalance that some commentators say skews in the way of BTC's price appreciation.
As crypto analyst Philip Swift put it best:
[It's] ∞ money printing vs. 21 million bitcoin.
∞ money printing vs. 21 million bitcoin.

Let's go!

— Philip Swift (@PositiveCrypto) April 23, 2020
Narrative Under Fire
The common narrative circulating the crypto community is that the halving will be decisively bullish for Bitcoin.
But, some have started to beg to differ, claiming that the halving may actually result in another price crash, with the miner capitulation narrative cropping up yet again.
Speaking to crypto data site LongHash, Mao Shixing, the co-founder of F2Pool, said:
If the price of Bitcoin maintains at the current range of $6,000 to $7,000, more machines will inevitably be shut down after the halving. The March 12 crash has already caused a number of machines to shut down.
Miners becoming unprofitable is bad for the Bitcoin price, according to analyst Cole Garner, because it will force miners on the margin or those unprofitable but willing to continue operations to sell their Bitcoin holdings to fund their operational expenditure.
The halving, should Mao's statements come true, will accelerate this process, potentially resulting in another sell-off in the markets.